The world famous "little fishing village" with approx. 1900 permanent residents, declare themselves as the gem amongst all other fishing villages along the Northern Costa Brava .
The bay of Cadaqués forms Catalonians largest natural harbor. In summer boats and ships of all different sizes are anchored there. Who wants to go ashore though will be in need of a dinghy or otherwise has to use their swimming skills. The beach is narrow and stony, but who these days visits Cadaqués for swimming or beach activities?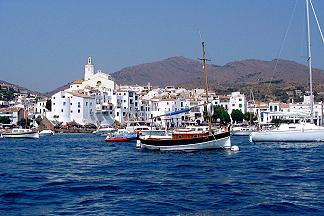 During the fifties tourism established itself here and in many other coastal places. A phenomenon occurred though, cultural tourism probably being the reason for it. No other place in the world with comparable the same size has hosted so many artists who later became world famous eg. Matisse, Picasso, Duchamps, Man Ray, Max Ernst, André Derain, and Salvador Dalí,  just to name a few.
The parish church from XVII. Century lies in the center of the village and is surrounded by numerous small, windy alleys, which lead down to the beach and give Cadaqués its picturesque charm.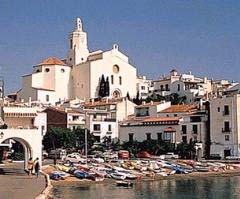 The old quarter hosts a large number of galleries, fashion, art and craft shops. In winter these stores are sometimes opened at weekend. For instance, from Easter the place is buzzing with tourists and from then onwards most businesses stay open permanently and invite people to shop.
The climate is mild just like in the other places around the Cap Creus and does not become too hot in summer. During the winter the Tramuntana, however, can result in very uncomfortable weather. Cadaqués is less exposed to the north winds though through its enclosed area, compared to the other nearby places.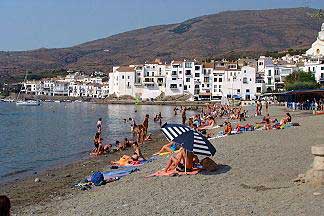 During the main season Cadaqués is less suitable for a bathing and beach vacation only. The main beach is rather stony and too narrow, in order to accommodate a crowd. Also there are so many boats anchored in the bay that this alone does not provide an ideal place for swimming.
In the high season one comes to Cadaqués to be seen and to see, in order to meet or become acquainted with many people. The beach cafes and Bars are constantly frequented, also the night life is far from boring. Excellent restaurants compete with quite acceptable prices to cater for the guests.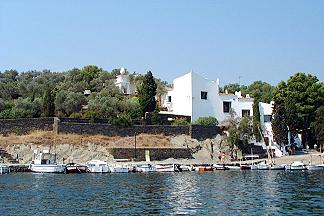 The house of Salvador Dalí, several museums and various art galleries recommend Cadaqués in addition as place for the cultural vacation. The city administration also organizes numerous cultural events . Promenades and the nature reserve of Cap Creus with its restaurant form likewise ideal conditions for nature enthusiasts.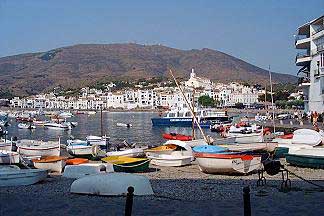 Many guests come only for one day to visit the museums and to enjoy the place with its international flair. It is therefore highly recommended not to select the absolute high season or strongly frequented weekends.
Infrastructure
Accommodation in hotels and boarding houses of many different categories and price classes or in holiday houses and flats. These are offered (in not too large numbers) by the local agencies. Reservation is recommended. 1 camp site available. Restaurants of different price classes ( Casa Anita, ); some are open all year round. Sufficient purchase possibilities. The price level is here somewhat higher than for example in Llançà, but quite acceptable. Boat hire is, Mini golf, riding, bicycle hire, windsurfing are available.
Gallery
————————————————————————————–
Google StreetView
————————————————————————————–
Google Maps

Muestra Cadaqués en un mapa más grande