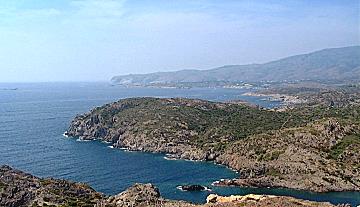 The Cap Creus is the last outlet of the Pyrenees and at the same time the most easterly point of the Iberian Peninsula on the map. That is one of the reasons why the Cap with its lighthouse is a particularly important point in the nautical charts..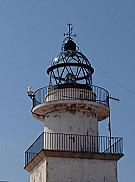 The Cap Creus since May 1998 declared as a nature reserve, lies by the sea as well as on land. By the sea the area begins at the land point of Bol Nou near the Cala Tamariu within the region of Port de la Selva and ends just before Roses at the land point of (kat. Punta) Falconera. Fishing with nets is forbidden within this area, in some zones, however fishing in the traditional way with staggered arrays or the " Palangre " is permitted. The protected area on land covers an space of scarcely 90 hectares. Fauna and Flora are equally protected . The majority of the area, i.e. 40 hectares, lies within Port de la Selva.
This nature reserve is the only one in Spain, which covers sea and land at the same time; it contains the largest uninhabited area in the Spanish Mediterranean.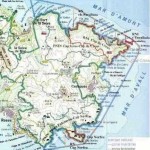 The rocky coast which is barren and mainly consists of slate, is continually broken up by small bays. Fauna and Flora of the area are quite unique and comprise a variety of very rare species of sea-birds in danger of extinction. Winter is domineered by very strong northerly winds which continually hinder fishing and maritime traffic. Therefore the area around the Cap registers a very small environmental pollution and is renowned as underwater paradise for divers.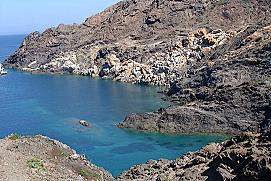 The very characteristic lighthouse of Cap Creus sends his signals flashing twice every 10 seconds. In the summer the winds blow to 70 % from northern directions, the " Mistral" comes from NO and the " Gregal "from NW. In summer time around midday the wind blows the strongest and calms down during the night.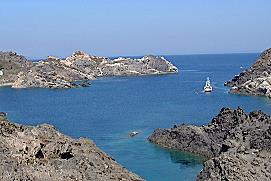 Whoever wants more information about Cap Creus, can obtain this in the information office of the Cap which is   situated at the monastery of Sant Pere de Rodes. This is also available at the tourist information offices of the adjacent municipalities (Llançà, Port de la Selva, Cadaqués and Roses) Have a look at the Restaurant Cap de Creus and its English owner Chris.
View larger map