From all the villages around Cap Creus, Port de la Selva is the most likely one to earn the title of "small fishing village" ". Small, white houses nestle into each other, as if to seek shelter from the Tramuntana together.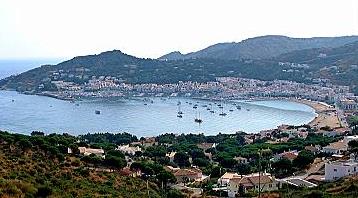 Naturally many inhabitants here make their livelihood out of tourism but their main source of income still is fishing . The fishing port ranks among the most important in this province.
Port de la Selva and its history:
1725 building of the first church; at that time port de la Selva still belonged to Selva del Mar. Near the beach only a few huts existed, where the fishermen kept their nets and other equipment.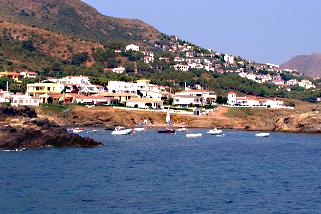 1787 independence from Selva del Mar by decree from king Carlo III.
In the 19 century economical boom in wine and olive oil; the number of inhabitants increases.
At the end of the 19 century the wine bug destroyed most vineyards. The number of inhabitants declined again.
1986 after a public vote the road to Llançà was built with public money.
After the civil war 70% of Port de la Selva gets destroyed.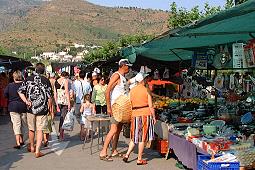 In the sixties new economical boom in tourism. The number of inhabitants lies around 800. New houses and flats are being built without touching the village centre.
Position and climate
The bay of port de la Selva forms a natural harbour basin and is sheltered by the surrounding mountains from the harsh northerly winds. The prevailing beach is fairly large and offers even in the main season sufficient space. This beach is especially popular with windsurfers. The beach of "Cala Tamariu" is situated on the way to Cap Creus and can be reached by car. Further small bays towards CapCreus are well worth visiting by foot.
After the tourist boom in the sixties a more national tourism has been established here. Especially with the Barcelona upper class this picturesque resort seems very popular.
Sometimes in the height of the season, namely between 1 and 20 August the place gets somewhat crowded but not too overcrowded.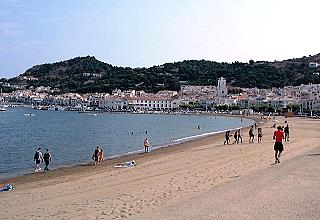 Due to the proximity of the border this place is also visited by many French tourists. The number of tourists coming from EEC countries and Scandinavia are about equal. The surrounding of the village with its numerous footpaths invites to encounter unspoilt nature and numerous historical sites from the megalithic era and Medieval times.
Accommodation in family hotels and hostels, at the camping site or in holiday houses and flats These are usually rented out by agencies or privately. There are numerous restaurants. For self caterers there are ample shopping facilities. The price level is somewhat higher here than in Llançà and comparable to Cadaqués.
Sport facilities available for cyclists, tennis and all water sports. In the sports harbour of Port de la Selva mooring places are being rented and sold. The Diving centre is very well equipped and forms a point of attraction for divers from the entire world.
View larger map
————————————————————————————–
Pictures from Port de la Selva
————————————————————————————–