The Illa Mateua camping site in L'Escala is housing the Spanish Guardia Civil agents who had to leave Calella due to the pressure of the inhabitants, since the agents are part of the contingent that carried out the police repression of the 1 st October referendum
On October 25th, about eighty civil guards arrived at the Illa Mateua campsite in Montgó, in L'Escala. They are agents who participated in the police repression of the 1st October and who had been housed in hotels in Calella, also being involved in night disturbances dressed in civilian clothes and pursuing, with the extensible defenses in hand, the people shouting at them to leave.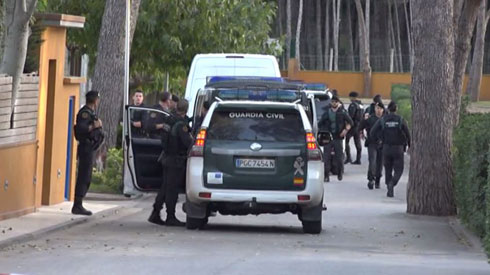 Spanish Guardia Civil agents arrival at the Illa Mateua campsite (photo: Canal10.cat)
After the inhabitants of Calella threw them out of the town, they were housed very precariously in the military base of Sant Climent Sescebes.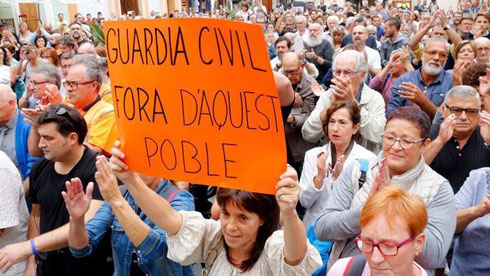 Protest in Calella due to the housing of Spanish police and Guardia Civil agents in some town hotels (photo: 324.cat)
According to statements to the press of Eva Trias (deputy director of the camping, partner of the owner and president in Girona of the Association of Ampas of Catalonia, FAPAC), after receiving the call from the Guardia Civil agents decided to postpone the closure of the camping that was planned for on October 22, and welcome the agents, despite the outrage and rejection that could be caused to a significant number of the people of L'escala.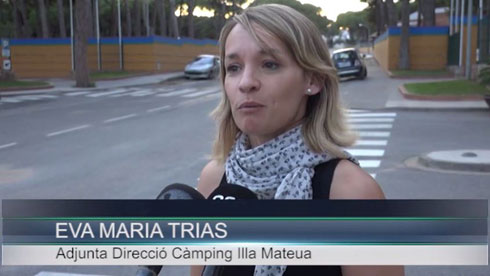 (photo: Canal10.cat)
The Illa Mateua campsite made headlines this past summer when its owner Martí Guillem organized military maneuvers with weapons as part of a family entertainment show. After the commotion that followed, Martí, then councilor of the PDeCAT in L'Escala, had to resign from his position as councillor.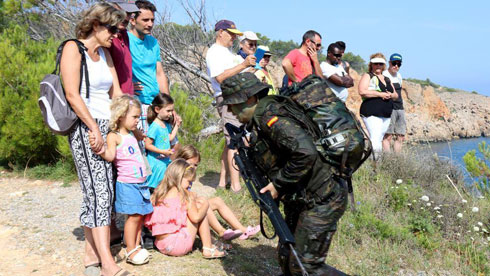 The discomfort of an important part of the population was noted on the same day of the arrival of the agents. On the morning of the 25th and before anybody arrived, there was already a media outlet parked at the entrance of the campsite, and he communicated, through his TV channel, the news that the arrival of the agents was imminent.
In the afternoon the agents arrived, and in the evening, about 150 people gathered at the entrance to protest at their arrival, giving them a loud welcome and shouting 'Occupation Forces Out!' and 'we don't want you here!'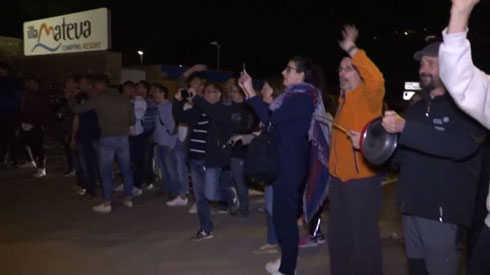 photo: Canal10.cat
In addition, last October 27th ERC L'Escala and ANC L'Escala delivered in the municipality many signatures to declare Marti Guillem persona non grata on one side, and on the other side for the municipality to ask for explanations from the Government Delegation for the reasons that justify the arrival of the contingent of agents to L'Escala.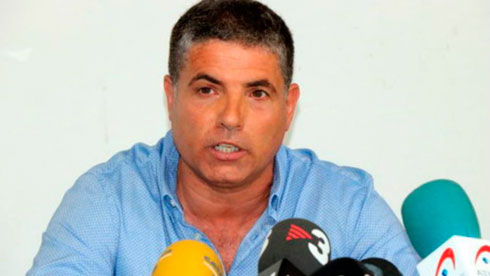 (Martí Guillem during the summer press meeting he organized due to the military familiar show)
In statements to the press, Martí has confined himself to saying that 'in my campsite, I am free to do whatever I want'.
---