L'ESCALA inaugurates the town hall square, work of Rubau Tarrés, a company convicted of corruption.
The mayor of L'Escala Victor Puga has recently ordered the placement of the latest architectural elements of the new town hall square, as well as putting colourful flowers in the concrete pots that also serve as benches.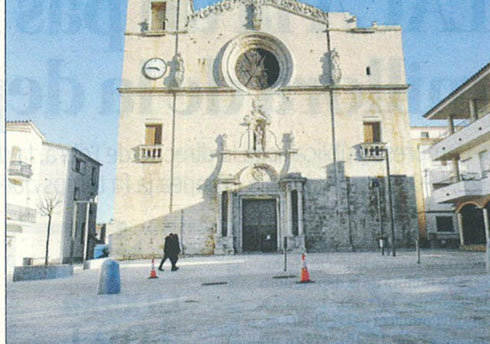 (photo: Diari de Girona)
It should be remembered that this reform was proposed and accepted unilaterally by the mayor and his government team. Popular opinion was against it, not only because of the high cost of it, but also whether there was a need for the work, whilst in the town there are many other unresolved priorities, such as the serious housing problem. L'Escala is a town with 1,000 empty houses (100 of which are owned by banks and 4 by the city council), and today there are 0 houses for social rent, forcing 12 L'escala families not to have a roof over their heads.
The work, with an initial budget of 600,000 €, was awarded to Rubau Tarrés, a company convicted of corruption by the Barcelona Court (news in Ara.cat).
Due to this firms condemnation for bribery to a position of the Generalitat, the mayor of L'Escala has breached Law 30/2007 of Contracts of the Public Sector:
"Article 49 Prohibitions of contracting.
They cannot contract with the public sector the persons in which one of the following circumstances exists:
(A) Have been convicted of a crime of [..] bribery, [..] "
Focusing purely on aesthetics, the popular opinion of the work once completed does not seem very positive. There is a large part of the population that agrees on the following:
– the absolute loss of charm and character of the old square
– cars and trucks cross the square without a clear sign, which favours abuse.
– the massive use of concrete
– the inclination of the square
Even the prestigious philosopher based in L'Escala Jordi Pigem published a very critical writing about the reforms, titled Grays.
In addition, it has recently transpired that in 2016 the mayor of L'Escala, as a member of the Consortium of the Costa Brava, along with the rest of the members increased their charges by 800%, which means that they went from charging 150 € to almost € 900 for each meeting they had (news on ElPuntAvui) (members of the Costa Brava Consortium).
All this makes more and more people of L'escala to be against the way of governing the town when their public managers move away from the standards of democracy and transparency that is demanded by today's society.
---